President Trump tweets Vigano
Title:  President Trump tweeted about Archbishop Viganò. So, who is he?
Author: Michael J. O'Loughlin (with contribution of Colleen Dulle)
Publisher: America Magazine
Date: 11JUN2020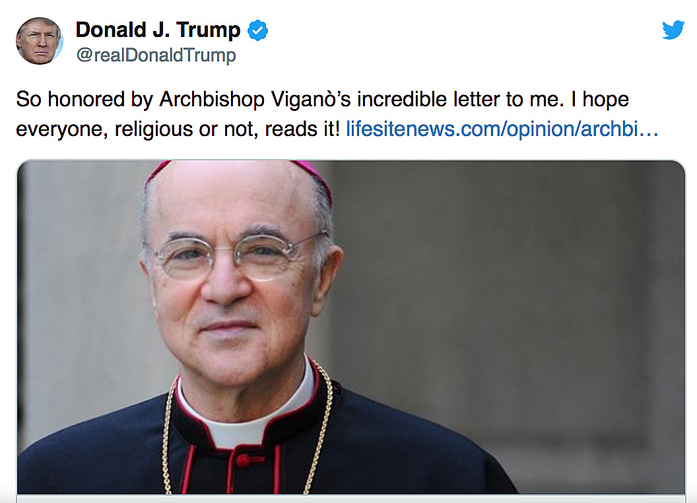 U.S. President Donald Trump tweeted June 11 that he was "honored" by an open letter written by Archbishop Carlo Maria Vigano, who served as nuncio to the United States from 2011 to 2016. In the letter, the former nuncio claimed that lockdown restrictions and unrest in the United States were part of a plot to establish a new world order. (CNS photo/Twitter) 
President Trump posted a tweet on June 10 saying he was "so honored" by a letter written by Archbishop Carlo Maria Viganò, a former Vatican ambassador to the United States who, in a series of missives in recent years, has blamed the church's sexual abuse crisis on gay priests, accused Pope Francis of championing schism and called for the pope to resign because of his alleged mishandling of abuse allegations against former Cardinal Thedore McCarrick.
What did Archbishop Viganò say in his letter to President Trump
On June 6, LifeSiteNews, a Catholic website that covers "culture, life, and family," posted a public letter that Archbishop Viganò wrote to President Trump. In the three-page letter, dated June 7, the archbishop expresses his belief in a number of conspiracy theories, including the existence of a "deep state" opposing Mr. Trump from within the U.S. federal government and a "deep church" comprised of "children of darkness"; a belief that the Covid-19 pandemic response represents "a colossal operation of social engineering"; and the notion that recent anti-racism protests in the United States evoke "the Masonic ideals of those who want to dominate the world by driving God out of the courts, out of schools, out of families, and perhaps even out of churches."
For more information visit:
https://www.americamagazine.org/faith/2020/06/11/president-trump-tweeted-about-archbishop-vigano-so-who-he